Your APA research papers need to be formatted and presented well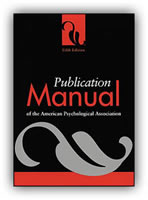 The APA style is usually used when writing research papers on Psychology and a few social and behavioral sciences. It is simple and precise thus communicating the facts much more clearly. It helps to move your entire research paper forward systematically and precisely. An APA style enables ideas to be presented clearly and the salient points of your paper can also be located easier. Therefore writing your assignment as an APA research paper would benefit you not only in your writing but also in your grades.
How to format a research paper in the APA style
Many students are not aware of the proper formatting methods of APA research papers. Teachers sometimes don't guide their students well. Students end up fumbling through the formatting methods as well as the citation procedure. Why go through all that pain and pressure. You can get writing help and guidance from writing companies like us. Our writers are always on the lookout for new updates and will therefore be able to provide you with current and updated information. We can help you write your entire research paper including the research paper proposal. A research paper written in the APA format has certain components that distinguish it from the other writing styles. They are as follows:
1/-          The title page
Title page also known as the cover page is written as a separate page from the rest of the research paper. It contains information such as your assignment topic, your name, course study, class, name of your instructor and the submission date. This page is imperative only if your teacher requires you to present this page. Ensure that it is impressive as this is the first page that you reader will look at giving him/her a glimpse into the contents of your research paper. The most peculiar feature in an APA research paper is the running head which is written at the top of the page on each page of your research paper.
2/-          Citations
Citation of resource materials is very important for any research paper assignment. It indicates that you have taken the time and effort to research the facts presented in your paper. Research paper written in the APA style has in-text citation written in parenthesis right next to the quoted text. It contains the author's surname and year of publication. Full details of your resources will be found on a separate reference page. This would contain the author's name, date of publication, title of the book, place of publication, name of publisher and the page number of the quoted text. Footnotes are not used when writing in the APA style but it is permitted when additional information is required to be mentioned in the research paper.
Besides giving you instructions and guidance on how to write and present APA research papers, we also provide other services. Students who find themselves short of time can avail our custom research paper writing facility. The assignment will be written to your specifications and requirements. You can also buy research papers on any topic in any subject. We guarantee the quality of these papers as they are written by experts in various study fields.