With APA style research papers you can present all your information in an organized way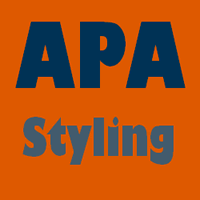 Most of you might wonder why it is so important to use a particular kind of style of format while writing a research paper. Just take a moment to think this through. If you did not have a format to follow, you not be able to make a proper presentation of the info that you have collected. Also, there would be no uniformity in the papers that are submitted between you and your peers. Doing an APA style research paper gives you the opportunity to follow the rules of the American Psychological Association and also ensures that the info you present is highlighted appropriately.
Usage of the APA format
Most research papers that fall within the purview of the social sciences follow the APA format. For instance, a paper on Abnormal Behavior or Learning Disorders in Psychology could follow this style. Similarly, if you are discussing a problem in Sociology, such as Social class and structure, APA could be the most suited citation style to use. If you are keen on learning more about APA and its guidelines, please get in touch with us. We can give you all the info that you want and also clarify any doubts you may have on the subject. So call us when you have APA style research papers to write.
Some important guidelines
General guidelines
These rules pertain to the general appearance of the research paper. Irrespective of what the research paper topic is, you need to ensure that the whole paper is typed in double-line spacing. The font to be used is generally between 10 and 12 and should be a simple one like Times New Roman. The whole paper or dissertation is to be typed on A4 size paper. In other words, it is 8.5inches x 11inches.
Main components of an APA paper
Whether you are working on an APA dissertation or research paper, these are the sections that you have to include:
1/-   Title Page
2/-   Abstract
3/-   Introduction
4/-   Developmental context (if necessary)
5/-   Literature Review
6/-   Methodology
7/-   Discussion
8/-   Results and findings
9/-   Assessments and evaluation
10/- Conclusion
11/- References
12/- Appendix (if any)
When you prepare your APA style research paper, please make sure that you are aware of what each of these components should contain. If you have any clarifications of any of these sections mentioned above, please get in touch with us. Our team of experienced writers will be able to take you through any issue, quite easily.
Citing another research paper
In the course of your writing, you are bound to come across a situation wherein you need to cite another writer's paper, article or dissertation. It is therefore necessary for you to know the rules of how to cite research paper in your own work. Give us a call to find out more on this.
Working on APA style research papers could be challenging if you don't have a firm like us to guide you through. Preparing the outline according to the research paper outline rubric could be easy; but you need someone to guide you through this too. Call us when you need our help.