Mind where you get your free term paper from; it could plagiarized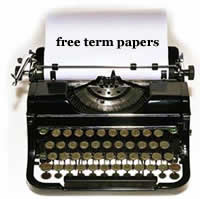 Anything free is attractive. Whether it is an extra amount of a product that you are able to get for the price of the original or a free holiday; the word free makes anyone happy. This is why when you see the headlines screaming: free term papers, you are ready to get up and make a dash for it. You might not realize that a free research paper or term paper could get you into trouble if you are not careful. This is true even when you look at the research paper for sale on any site. Since you are looking for a specific research paper topic, or term paper idea, it is necessary that you are careful about your source.
Five steps of caution you can take
Since there are going to be countless numbers of websites that are going to offer you're a free term paper, it would be good to be cautious. Just keep these five points in mind when you are looking through the offers that they are giving you. They could save you from a lot of heartache later on.
1/         Run a check
Today there are quite a few different kinds of software that is available on the net that help you ascertain the level of plagiarism in a paper. Some of these are free and some are not. If you could download a trustworthy one like Copyscape, you could run the paper that is given to you free and see whether it is genuine or not.
2/         Language quality
If you find that there are too many technical terms in your paper and the language is far from okay, then you better steer clear of the site. This indicates that the so called free term papers that they have are written by incompetent writers who have no clue about academic writing.
3/         Check the prices
Now you must be wondering: why should I bother about prices when something is free. Well, there is a logic in this that you have to think through.  Go through the price list; if you find that the papers are reasonably priced, then you are on safe ground. If they are incredibly cheap; you need to think of the quality of writers who work on them. Good writers don't come cheap; you've got to pay – work out the math and you will understand how pricing is also a factor to consider while downloading free papers.
4/         Strings attached
This is another issue that hits you in the face, only when you are halfway through the download. Just when you think you have a free paper, you will see in very small print: get two free papers when you buy this one! You're jacked! So make sure you don't fall for the trap.
5/         Your contribution
This is the trickiest of them all. There are sites who tell you that you can download one free paper when you upload one of your own. How innovative people get! Just watch out.
The next time you try to lay your hands on a free term paper, think of these five steps of caution. Or else, just call us!