Learning how to write research papers will help you become more professional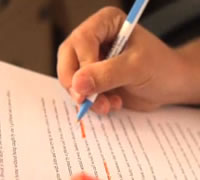 Learning how to write research paper is an art that all students need to develop. The process of writing research papers helps develop the following qualities in you:-
1/-          A questioning mind
While reading your course material, you will need to formulate questions. From these questions of how and why you will frame your research question around which your research paper will be written.
2/-          Finding resources
When you have questions, the natural progression would be to find suitable answers. You need to read all available resources to obtain logical answers to your questions. A good answer should be able to explain the how and why of a question.
3/-          Defending your theories
A how or why question is essential to any good research paper as it helps you develop an argument. You need to research your topic thoroughly and present facts to support your arguments. These evidences should be based on reliable sources, presented in a logical organized manner that focuses on a conclusion that answers the research question.
4/-          Presentation of facts
Learning how to write research papers is very important. You will need to present your argument and evidences in a clear, logical and creative manner. Sources must be accurately cited in the in-text notes as well as on the reference page. You will need to use a writing style that is appropriate to the subject.
Writing research paper needs skill
Most students find writing a research paper difficult. This is because you do have the basic skills on how to write research paper. There are basically three skills required by every student who wishes to write impressively and eloquently:-
1/-          Researching skills
Before you begin writing, it is important that you research your topic meticulously. Research is painstaking and time consuming. As a research paper needs to be written based on facts and evidences, you will have to go through all the primary and secondary resources available on your topic. While finding these facts, you will also need to make a note of its author and publication details so as not to be accused of plagiarism.
2/-          Organizational skills
What is the use of having all the relevant facts for your topic but not presenting it well? You will need to organize these facts into a chronological and logical order.  It is best that you begin with an outline for your paper, and then proceed to the final draft. In this way you will be able to organize your thoughts and weed out all your errors and have a perfect paper for submission.
3/-          Writing skills
How to write research papers is a frequent question asked by students. Writing is a skill that can be honed and developed. Having the facts is not sufficient; a good research paper has to be written creatively and presenting in an interesting manner.
Why we are the best writing company?
Our professional writers understand your need; therefore when you buy research paper from us, you can expect quality and perfection. We not only provide custom written research papers but also research paper topics to those who wish to write their own papers but are unable to find the right topic. We provide nothing but the best researched papers to our customers.