Learn all about the MLA format for research paper writing at ease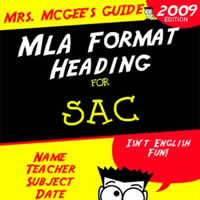 There are a few things you need to think about when you write a research paper. The right format is one of the most important things that you have to focus on. This article will help you understand all about the MLA format for research papers. What you don't find here, you can find on our website. Ours is an interactive one that leads you through a maze of info in a skilful way. You are going to be quite knowledgeable once you are through with our site.
In order to make an MLA format a little easier for you, we have given some important points that could help you with your writing. These are just a few and there are few more to learn about; you could do this with the help of our writing experts. Here are some vital points to begin your learning with:
1/         Main heading
There are many who feel that for the MLA format for research paper writing, they have to observe a style wherein the letters are placed in the center in block letters for maximum effect. This is not right and certainly the MLA style does not allow it. Instead, you have to write the main heading in the center of the first page in Title Case. Please also remember that you should not underline it or render it in bold lettering. In case, your heading runs into more than one line, make sure that you have placed it in double line spacing as well.
2/         Contents or sections
When your teacher has said that you have to follow the MLA format for research papers, please make sure you know the order of the components. You cannot afford to go about this in a haphazard way. You need to have the following: introduction, rationale for the paper, literature review, discussion, results, analysis, evaluation and conclusion. Of course, you also have to put in the Works Cited section, the Bibliography and the Appendices, if any. If you are wondering how to work on any of these sections; just go through our samples. They are sure to help you understand what you place where.
3/         First page
This is another intriguing thing that always gives you a headache. There is no such a thing as a Title Page in an MLA paper. Instead, you place all the relevant info on the first page of your writing. Some bits of info like – your name, your guide's name, the date and the number of the course and its name – all this comes on the left hand side of the first page. Here again it would be wise to take a look at a good sample to put you through this without any problem.
Please remember that we can help you with the MLA format for research paper writing without much ado. It would help and make you feel a little safer to know that we have custom research papers you can buy from us. A research paper for sale is available on any of the research paper topics you might need.