With good outlines for term papers, your job is a lot easier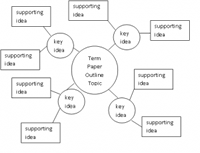 Though there is every reason for you to understand the importance of a good outline for a term paper, it is certainly not easy to formulate one. There are many issues that go into the preparation of sturdy outlines. Here are some points that are sure to keep you on track; it does not matter what your subject is – our help in forming outlines is invaluable.
Points that need to be at your fingertips
1          Understand the full import and scope of the research question or the term paper question. This is the only way you can structure your outline.
2          Start jotting down points that can be incorporated into the term paper. Not all these points will be included finally; nevertheless, it is necessary to begin taking notes.
3          Once you have completed your note-making, please see if you can categorize the various bits of info you have collected. This helps you form better outlines.
4          Take care to ensure that your outlines for term papers follow the same format as the paper. In short, you need to have an intro, body and conclusion.
5          Don't think that once you form an outline you can't revise it; actually you can. Go through the outline you formed; see if it is in line with the topic & make necessary changes.
Outlines and styles
This is another point that needs your attention when you are working on an outline for a term paper. Let us imagine that you are doing a bachelor's degree in Psychology. You have been asked write a term paper on ADHD, which is a behavioral problem in young people. In a situation like this, you would generally follow the APA citation style and format. It would therefore be a good and sensible idea for you to apply the same while formatting your outline. Take time to make your outline; this is the only way you can ensure that your paper will be good and well-structured too.
Run this checklist
When you have written an outline for your term paper, run through this checklist and see if your outline is okay:
1          It should address the question in its entirety
2          It should provide ample room for deletion or inclusion of points
3          It should follow the format and style that your paper is supposed to follow
4          There should be sufficient provision for examples
5          There should be a logical and sequential presentation
Is this all a little too much for you? If it is, please let us know. When you want to lay your hands on some real good custom research papers, you need to approach us. We have a research paper for sale on any imaginable topic and there is no way you will find any substandard stuff here. Name the research paper topics and the paper is yours within the specified deadline. Whether it is outlines for term papers or proposals for any kind of academic writing; our writers will not disappoint you. You are certainly going to be in an elevated position when you associate with us.