Outlines of research papers can cause you a lot of worry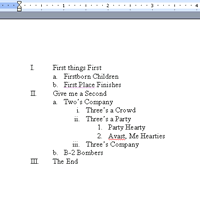 When you are trying to get an outline going, there are quite a few things that you need to keep an eye on. Right from the format that you are to follow, right down to the last detail that you intend including; there are many things to think about. Please let us know what kind of help you need when you are trying to work on an outline of a research paper; we'll tell you what to do.
How do outlines help?
When you are trying to bring in a lot of information into your research paper, you could be flooded with so much info that you might not know how to get the whole thing together. You could land up with just a collection of information or a good paper with info neatly presented. This depends on the outline or the template that you choose to adhere to. An outline tells you the order in which facts have to be presented and what info can be grouped together. All this also depends on the specific citation format you are following. If you are working with APA, make sure your outline is suited to that; on the other hand, if you need to work with MLA, check the format of the outline. All this might sound quite complicated if you are not used to working on outlines of research papers. Before you start looking for the panic button, give us a call.
Your outline should have the following components
1/-          Introduction
-first make sure that you introduce the issue or topic
-say why you are carrying out this analysis or research
-stress on the importance of the issue and its scope
-formulate the ingredients of your thesis statement
-specify all the issues or questions you will be answering in your paper
2/-          Methodology in the outline of a research paper
-clearly say which method or methods you will be using
-explain the reasons why a specific analyzing method is being used
-clearly indicate the various processes you will be using
3/-          General discussion and analysis
-bring together all the evidence or info that has been sourced
-if there are more than two or three concepts, they should be categorized
-categorization to be done on basis of various research questions
-make sure there is sufficient validation for the info given
4/-          Conclusions, evaluations, recommendations
-provide the link to the opening paragraphs
-answer each of the questions you posed at the beginning
-bring in various ideas or recommendations for future research,
-other relevant applications and ideas
Please don't freak out after going through this lengthy and intricate description of what the ingredients of good outlines of research papers are. We believe in giving you as much info as possible so that you are not at sea. As a skilled research paper writer, you will be able to judge whether a paper is good or not when you see one. Imagine you are going to look at a research paper for sale on a website. You need to know whether you are getting good stuff. Whether it is a research paper proposal, a conclusion, or anything else, make sure it is good.