Writing research paper helps you improve writing as well organizational skills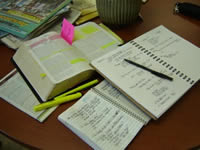 Research papers are well researched documents. Theories put forth must be well supported with evidences and the entire paper should be presented in an organized manner. To any research paper writer this is a challenge; you need to prove your capabilities, knowledge on the topic and writing skills. This is tall order for most students especially if you are not confident over your writing skills. The best solution is to get research paper help from us – your one-stop solution centre for all your writing problems and queries.
Identify the different approaches to research paper writing
Writing research papers is a must for all students. You would definitely be assigned to at least one or two research paper writing task for the duration of your course. The main purpose for this is to enable students to research a topic, gain in-depth knowledge of the topic and learn to communicate their finding in writing. There are basically two methods of writing a research paper:-
1/-       Analytical method
This method requires you to thoroughly explore the topic, break down the facts intellectually according to your observations and present an analysis of the topic with no preconceived opinions. Your task would be to survey the information and views of other researchers on this topic, critically analyze it and evaluate the credibility of the resources. You will then need to put forth the conclusions that you have derived from reading and analyzing the topic. Writing analytical research paper helps you to hone your analytical thinking skills and increase your capacity to understand reading materials.
2/-       Argumentative method
This method requires you to take a stand on an issue, sustain your theories with valid evidences and persuade the reader through logical reasoning to accept your opinions and justifications. You will need to provide a thesis statement that would be the focal point of your research paper. Assigning this type of research paper helps increase your knowledge as you would have to research the topic thoroughly to gather evidences to support your theories.
Identify the different parts of a research paper
One of the research paper help services that we provide is to equip you with knowledge on the different parts of a research paper and their functions. By understanding these various components, you will be able to write more effectively. The parts of a research paper are of two types:
1/-       Mandatory components
These include the title page, introduction, body paragraphs, conclusion and the reference page. These components are similarly written in most essays and research papers. The format and structure of your paper would depend on the writing style that is specified.
2/-       Optional components
These include the abstract, literature review and methodology. These components are included in a research paper only at the specification of your teacher.
Reduce your work load and stress level
Though writing your own research paper helps you increase your knowledge and writing abilities; you can achieve the same by ordering a research paper for sale from us. Use our custom written papers as examples for your future writing tasks. Our writers will ensure a research paper proposal is created for your teacher's approval before starting work on your assignment. We guarantee quality and perfection in every paper written by us.