When you learn about research papers in APA format, get your facts right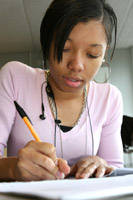 It takes a lot of time and perseverance to master a particular citation style. Whether it is the MLA, APA, Harvard, Chicago or any other style, make sure you learn the intricacies regarding formatting and citation. We do understand that this is easier said than done; but you have nothing to worry when you have us on your side to help you out. Take the research paper in APA format for instance – there are so many small points you need to keep track of when you begin one. Here are some you need to keep your mind focused on.
Points to focus on
1/-       General rules
With regard to the size of the page, the margins, headers, footers and so on, there are some rules and guidelines that all research papers in APA format need to follow. Here are some points you should keep track of –
a/-       The entire paper needs to be presented on A4 size paper; that is the normal or standard size. It is 8 ½ x 11 inches and should be clear white.
b/-       Using Times New Roman or a similar simple font is necessary if it is an APA paper. Do not bring in fonts that are flowery or decorative. These are not accepted.
c/-        You need to make use of the Header option in your paper. You need to have the page number at the extreme right and the title of your paper in the extreme left corner.
2/-       Citation rules
Every research paper in APA format needs to have as many sources that an instructor asks for. Let us think of a student who is working on a paper that deals with a topic in Abnormal Psychology. He would have to refer to papers on the topic along with important cases that have brought out certain theories on the same subject.
a/-       When you are placing an in-text citation, make sure that you have the name of the author followed by a comma and then the year of publication. All these are to be placed within brackets after you have referred to the particular source.
b/-       When you are preparing your list of references, you need to remember that the page number that you have taken your info from has to be mentioned.
c/-        When you are bringing in a complete quotation verbatim, it is necessary to present it as a free-standing paragraph or block of words. Don't make the mistake of changing the line spacing; it has to be double within the quote too.
Apart from the rules and guidelines that are mentioned above for research papers written in the APA style, you have a few more that you need to worry about. Get in touch with us when you are wondering what to do. To buy research paper or essay from us could be a wise thing to do especially when time is at a premium. There are so many writers to help you in a wide range of subjects. When you see some samples of research paper topics they have worked on, you are sure to be impressed.
It is not necessary to get overly worked up when you have research papers in APA format to work on. All you need to remember is this website and you are set to get a winning paper off in no time at all.