Focus on the specifications when writing research papers MLA format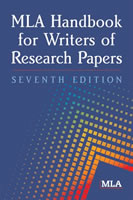 MLA format is the most commonly used format for academic papers as it is simple and flexible. It is used for presenting papers in the humanities and liberal arts disciplines. Every style has its own rules and specifications.  As such, when writing a research paper MLA format, ensure that you are aware of the formatting rules and methodology.
What are the basic rules for a MLA format?
Students presenting research papers MLA format are expected to write their papers according to the formatting rule. Otherwise your paper will be rejected; affecting your grades. The most important factor of the MLA format is the citation style. It provides the opportunity to give credit to information sources i.e. references that you have used to gather your data and evidences to support your theories. This avoids you being accused of plagiarizing others' ideas and research materials. When custom research papers are written by us, we will ensure that your assignment is written according to the correct formatting methods. Here are a few tips from us on how to write a perfectly composed research paper in the MLA format:-
1/-          Prepare an outline of the paper you wish to present. Compose your research paper, presenting your facts and evidences in a systematic manner. Ensure each fact and supporting evidence is written in separate paragraphs; maintaining a smooth flow from paragraph to paragraph. This will prevent you from confusing your ideas with the methodology of your research paper MLA format.
2/-          Make notations of all the reference materials that you are using to gather facts and evidences while writing your first draft. This is to avoid being accused of plagiarism. Insert these notations as in-text citations within parenthesis; this should correlate to the list of information given on the Works Cited page at the end of your research paper.
Other details in an MLA format research paper
Besides the in-text citation and the works cited page format, there are other details that need to be observed.
1/-          Margins should be 1 inch on all four sides of the paper.
2/-          Double space your entire research paper; including the works cited page.
3/-          MLA format does not require a separate title page unless specifically requested. As such you will write/type your name, your professor's name, course name etc. on separate double-spaced lines. The assignment title will also be on the same page but centered above your text.
4/-          Pages of your research document should be numbered consistently 1½ inch on the upper right-hand corner of all the pages.
5/-          Works Cited page should consist of the author's last name along with the date and place of publication. The authors' names have to be listed alphabetically.
What can you expect from our website?
Students visiting our website can expect the best possible help from our professional team of writers. We are a service oriented writing company. We can provide quality and economically priced research paper for sale for those who have other deadlines to keep. If you are in a fix for an appropriate topic for your assignment, our team can also provide you with impressive research paper topics. You can always depend on us to provide you with the best research papers in any subject and writing style.