Good research paper outlines could make your life as a research scholar, a lot easier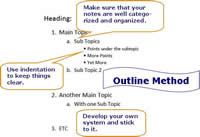 Taking time to learn the basics of preparing a research paper outline could stand you in good stead when you decide to work on a thesis, term paper or research paper. It is necessary to learn the ABC of research paper formats from the right source. Whether it is an outline MLA paper or an APA outline that you need, this is the place to come to. Your work is easier because of the extensive and interesting research paper topic ideas and tips that we can give you.
If you have doubts on outline making, read this
1/-  It is good to keep the citation style in mind before starting off an outline. This will reduce the time you take when you start the actual writing process.
2/-  Outlines should not be too rigid; there should be enough room for you to either include or take away data, as you see fit at a particular point in time.
3/-  It is always good to ensure that your research paper outlines contain subheadings that are pertinent to your topic. Do not make the mistake of following a template blindly. You are likely to get led astray and land up with points that do not fit into your research or term paper, at all.
4/-   Provide for the inclusion of footnotes if the format demands it. Though this might be a difficult thing to incorporate in the outline stage of research paper writing; it is good to keep this in mind.
5/-   While formulating the outline for the methodology section, it is necessary to very clear about the practicality and pertinence of the method to be used. Make sure you understand the complete scope of the same before putting down the various steps involved in a particular research method.
6/-   Sequence is the most important aspect of a research paper outline. If you are not able to present the points in a chronological or sequential order, you are likely to leave out some vital details. This could leave your paper looking very amateurish and badly-structured.
7/-   It is a good idea to provide for the inclusion of appendices while making an outline. Though an appendix is not a mandatory component of a research paper, providing for the same would be the right thing to do. You need to know in which part of the outline the appendices should appear.
8/-   While working on the outline; please also remember the stages at which you need to include figures, statistical info and other illustrations. These inclusions could be part of your methodology or the discussion; either way, you need to provide for the same.
You might not have sufficient time to prepare good research paper outlines for your paper; your schedule being a busy one. In this case, do not wonder how you are going to manage your research paper writing in a proper way. All you need to do is tell us about your topic and the time that you have. We could help you with the right outline and if need be, the paper too.