How does a research paper outline help you? Find out here!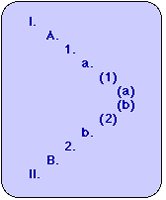 One of the most difficult tasks for any research paper writer is to be able to write an effective and impressive research paper. You will have to maintain the high writing standards that are expected of any student at college level. Sometimes when you are given an assignment, your professor might request you to first submit an outline before beginning work on your final paper. Research paper outlines are created once you have decided on the topic for the assignment and formulated the thesis statement. What is the purpose of writing an outline for your research paper? There are several reasons why teachers insist on creating outlines:-
1/-          Facts and evidences to support your argument would be gathered from various resources. Writing an outline helps you to lay out your facts and the evidences to support these facts in a coherent manner.
2/-          Doing a research paper outline before writing the final paper helps you to arrange your thoughts into an orderly manner of presentation. This would make the difference between a good research paper and an impressive research paper.
3/-          Just as the thesis statement helps you focus on the research question, writing the outline helps you to stay focused on the structure and formatting method. It is important to present your academic papers in the correct writing style and formatting method.
4/-          Writing an outline helps you to hone and polish your writing skills as well organizing skills.
Should the outline be written in a specific manner?
Different subjects need to be presented in different writing styles. For example subjects in the social sciences discipline need to be written in the APA style while subjects in humanities should be written in the MLA style.  Therefore when creating research paper outlines, it is best to stick to the writing style instructed by your lecturer. The following are some of the details that you need to remember while creating the outline:-
1/-          The structure for all research papers should consist of a topic, thesis statement, introduction, methodology, discussion, conclusions, in-text citation and a reference page. Likewise the outline should also be presented in a similar structure.
2/-          While writing the outline, you need to mention details of the resources that you would be using to support your arguments. In-text citation and the reference/works cited page should follow the unique writing rules of the specific style.  Remember the structure of the details mentioned in the in-text citation and the bibliography page differ from style to style.
Credible and reliable guidance
Most students are not aware of the formatting procedure when writing a research paper outline. Get in touch with us for reliable guidance, sample outlines or even templates that would enable you to arrange your thoughts, ideas and opinions into an organized manner. On the other hand if you decide to pick a research paper for sale from us, you need not worry about writing the perfect paper. It would be done to your specifications and your teacher's instructions. We will ensure that an outline is completed before preparing the research paper proposal for your teacher's approval. You can rely on us to provide you with either a quality research paper or reliable and quality guidance.