Working on research review papers could be an uphill task if you don't have the right guidance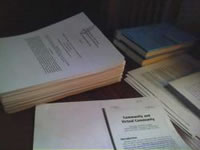 Putting together a research review paper might sound easy till you actually get down to doing it. Before wondering how to work on a review paper, it is necessary for you to understand what reviews are all about. This would be a good way of ensuring that your review is good both in content as well as in the formatting or presentation.
What is a review?
As the word indicates, a review refers to a study or a critical analysis of any kind of writing. This could be a book, a research paper, a term paper, an essay or anything similar. Therefore, if you are going to research a particular topic, it means that at some point, another person could do a review of this same paper that you have worked on.  Research review papers are therefore detailed pieces of writing that present a critical view of a research paper that has already been submitted to some guide/institution at some point.
Why is it important to know about reviews and research paper?
Here are some reasons that would help you understand how both reviews as well as research papers figure in the lives of every student in college and university. Take a look –
1/-  You write a research paper to know or understand a particular issue, phenomenon or subject-matter. It is a way of trying to prove a statement on the basis of inquiry that has been done according to pre-specified methods. If you are keen on getting to know more about writing a research paper, it is good to learn about outlines first. Therefore, get in touch with us for more info on the right research paper outline rubric.
2/-  Writing a research paper might not be enough; you also need to know who has done anything like this on a similar research paper topic in the past. Let us imagine that you discover, while doing a research paper, info about the same topic in another paper. The writer is a person who has completed the course and passed out of the college. You need to know how to use the info in the paper and more importantly how to cite research paper properly.
3/-  Once you are aware of bringing in fresh and genuine info into your research review paper, it will be a lot easier to bring your ideas into the right format. Most of you are aware of the importance of the thesis statement and all the other elements of a research paper. Whether it is a review or a simple research paper, you need to keep in mind the basic format of intro, literature review, methodology, discussion and conclusion.
Working on research review papers is exceedingly difficult if you are not in touch with pros like us. We have writers who can help you write a review or a research paper or a review of a paper too. They have specialized writing skills and are able to tackle some of the most complicated topics that you can think of. Take time to go through our site and tell us what you are looking for.