Research topics should be interesting both to the writer as well as the reader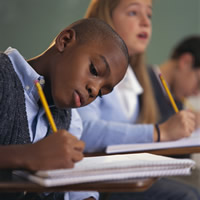 You need to research all academic papers well before writing them. Be it a class assignment or a term paper, unless the research topic is explored, investigated and studied, you will not be able to write knowledgably or eloquently. Developing a topic for your research paper from the given assignment is no easy feat. It requires knowledge of the subject good language flow as well as the ability to write skillfully. There are several reasons why a research paper topic should be interesting:-
1/-          This is to assure that your paper catches the reader's attention.
2/-          To assure that your paper is read completely; otherwise all your hard work would be in vain.
3/-          It affects the overall impression of your paper as this is the first thing seen by the reader.
How to choose a good topic
Whether you are a nursing student, a mathematics student or a literature student, you will be expected to write several academic papers. If you know your subject well, you would not have a problem deciding on a topic for your research paper; but research topics need to be created and devised eloquently. Here are a few tips on how to create an impressive topic for your research paper:-
1/-          Choose within the realm of your subject
Choosing a topic within your subject area ensures that you are knowledgeable of the points and facts that you need to present for discussion.
2/-          Ensure that your topic is viable
A broad topic will need extensive research work and you will not be able to present all the relevant facts within the page or word limit that has been specified in your assignments. At the same time a narrow topic will have too little facts to be presented. A good research topic should be able to offer different directions for analysis and discussion thus creating an interesting research paper.
3/-          Resources, time and inclination
Ensure that when you decide on a topic you have sufficient resources to gather facts and supporting evidences. You will need time to gather these facts while in the midst of juggling other subject assignments. Unless the topic is motivating and appealing to you, you will not feel inclined to be through with your research work. This will definitely affect your paper and your grades.
Professional help at your fingertips
Most students get dejected when confronted with the thought of deciding appropriate research topics. Not only are you expected to come up with an interesting topic; but also write an interesting research paper. If you have other assignments with the same deadline, this can be a daunting task. Well you can opt for a custom research paper or buy research papers from us and be assured of professionally written papers of the highest quality. All custom written papers will be provided with an appropriate topic and a thesis statement. A research paper proposal will also be provided for your teacher's approval and the final paper will be completed, proofread and ready for submission by your deadline.