It is necessary to be careful while following samples of research papers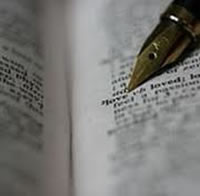 There are two important points that you need to keep a watch out for when you decide to use a sample of a research paper as a guide. They are as follows:
1/-       The format and structure of the sample research paper
2/-       The genuineness or originality of the sample
If you are sure about both these points, you can use this particular sample as a good tool to become an effective research paper writer. Since you can always find a sample or a research paper for sale, it is always good to check for the two points that we have mentioned above. The most important point is that you are safe and won't have too many problems. The same is true when you are looking at or following a sample of a research paper proposal too. Always remember that it is good to take cues only from authentic samples of research papers.
Use this checklist to see if your sample is good
1/-       Take a look at the format that is followed in the sample. Does it have all the components of a research paper – take a look:
-introduction
-literature review
-methodology
-discussion
-analysis
-recommendations
-final results and evaluation
-conclusion
2/-       If you are sure that it has all the components, then take a look at the way in which the whole paper is presented. Here, these are the points to look out for –
-does it have the right font – usually 12 point Times New Roman or any other simple font
-there should be a title page, if specified by your teacher
-it should be double-spaced
-it should have appropriate headings and subheadings
-pages should be numbered
-end notes and footnotes should be put in where necessary
3/-       Read through the entire sample of a research paper that you see and make sure that the facts and arguments are presented in a logical sequence.
4/-       Ensure that the language that is used right through the paper is fairly simple. If there are any technical terms, see if the same have been explained carefully and correctly.
5/-       When you reach the end of the research paper, you should be able to see if the thesis statement has been addressed properly and completely.
6/-       Above all, please check for errors of spelling, grammar and syntax – if you find a few it means it is not a sample that has been written by an expert.
Finding the time to read through samples could be something that you really don't have. Unfortunately, there are many things that you have to think about if you want to master the art of research paper writing. This is the main reason why a professional site like ours gives students like you the opportunity to go through well-written samples of research papers, term papers, essays and so on.
When you are on the lookout for excellent samples of research papers please think about the capability of our writers. If you do so, you will not go to any other professional writing firm; you will continue to get all that you need with us.