The thesis statement for research paper writing should be comprehensive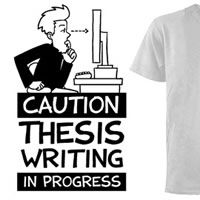 Thesis statements for research papers can only be written when you fully understand your topic, the methods used for researching and the facts being discussed. It needs to be written in a precise manner; summarizing the salient points of your entire research paper into a few sentences. The purpose of writing thesis statements in academic papers is to help both you and the reader focus on the central idea of the paper. Therefore when you formulate the thesis statement, ensure that it is:-
1/-       Sharply focused on the discussion that you wish to present in your academic paper. It is best not to use elaborate words; keep it precise and compact.
2/-       Written after carefully and objectively analyzing the facts and evidences accumulated from your research. Your statement should reveal your opinion on the topic.
3/-       A logical assertion of your theory and opinion which can be readily proved through researched facts and analyzed evidence.
Understand the purpose of creating an effective thesis
A thesis statement for research paper has several functions:-
1/-       It is an indication that you have perfect understanding of the topic
2/-       It proposes possible solutions to some of the visible questions around us.
3/-       It can deepen your insight of a problem or challenge conventional thoughts and bring about new ways of thinking
Learn to write effective statements
An important criterion to creating effective thesis statements for research papers is to indicate your opinion followed by the reason why or how you have formed that opinion. Remember thesis statements are either written at the completion of your paper or written at the beginning but revised along the way. Here are some tips and guidelines from our writers on how to formulate an effective thesis statement:-
1/-       Decide on a topic and narrow it down to just one aspect of the subject. For example, instead of mentioning usage of drugs in medicine in general, specify a particular drug used for a particular treatment.
2/-       Identify and note the key points of your statement. From the above example the usage of a particular drug and the particular illness would be your two main key points.
3/-       Create a question from these two key points. For example – 1) usefulness of the particular drug 2) effectiveness of the drug for the treatment of the particular illness.
4/-       When you have created your statement ensure that it covers the central idea of and the summary of your work without getting into any details.
Why get advice from the best
Picking up a research paper for sale from us would be an ideal solution if you have too many assignments to complete with similar deadlines. But on the other hand if you are fairly good with your writing abilities, you could tackle your assignment with some guidance from us. We could help you formulate your research paper topic as well as the thesis statement for research paper. Learning to write a thesis statement is a skill that is worth mastering. Once you are able to think out and write a thesis statement, writing a research paper would be no big deal.