A good topics for research paper writing is yours for the asking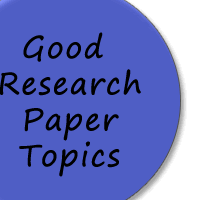 When you are trying your best to identify some good topics for research papers, there are times when you begin tearing your hair out. This is because there are so many things that you can choose from; it is difficult to make the right choice. Our expert writers can make suggestions that work in your favor because the topics they choose are interesting, up-to-date and level-appropriate.
Here are some topics that you could choose for your research papers
1/-          Africa – a region where there has been an incredible number of internal wars. Examine the reasons for these numerous wars and also identify specific areas that are more prone to it than others.
2/-          Foreclosure has become a reality in recent times in the West. More and more people are losing their homes because of the inability to pay up. Examine this trend and identify where it is heading.
3/-          The Healthcare Bill is probably one of the most hotly debated issues in Obama's America. As a young citizen of a developed country, how would you assess the impact of this Bill?
4/-          Death Penalty – is it a deterrent to crime. Examine the statistics of the various states in the USA that have imposed it. Does it really behave as a deterrent or is its impact overrated?
5/-          The legalization of Marijuana – do you think that this even a possibility? Examine the rules or laws that have been enacted on the use of this drug and present your arguments based on them.
Choosing a good topic
When you are asked to choose a good topic for research paper writing, there are a few points that would be necessary to remember. Here are some important ones
1/-          Take into consideration the level at which you are expected to write. If you are a college student, don't choose a topic that is better suited to a high-school student.
2/-          Make sure that the paper is connected with the relevant subject area that you have covered during a term or year.
3/-          Make a rough assessment of the time and other resources that you will need to complete a paper on the topics you have chosen. This would help you make a wise choice.
4/-          Don't pick a topic that is far too common – you would not be able to present your capabilities as a good research writer when the topic is too common.
5/-          Your topic could be a common one; but there is always a way in which you could choose to examine an angle which is refreshingly new. So always look from something interesting to work on.
Good topics for research papers might be hard to come by; you should call us when you are stymied. We could suggest topics, based on the level at which you are studying and the subject that you would like to focus on.
Apart from ordering the custom research papers that you need, at our site, we can recommend a good topic for research paper writing too. A research paper for sale is available, irrespective of the diverse nature of research paper topics you might need.