Understand the correct method of presenting APA format term papers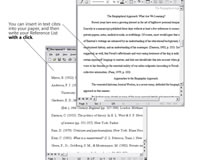 An APA format is very popular because of its simplicity in following guidelines and its functional emphasis on scientific subjects. This style of writing is generally used for presenting papers in social sciences, psychology, education or even business. It is a very comprehensive method provided you are aware of the formatting methods. Most teachers would give you the guidelines for this format along with other instruction for your term paper. You could also go to our website and obtain step by step instructions on how to write an APA format term paper.
APA style – what sets this apart from the other styles?
If you have been asked to write APA format term papers, ensure that you know the correct formatting methods as your grades would depend on it. Here are some of the common details that you will have to follow unless your teacher has specified otherwise:
1/-          Page structure
Ensure that the margins are one inch on all sides. Font size should be 12 pt and font style should be Times New Roman or something equally simple. Double spacing should be observed throughout your paper. Page header should be on the left while the page numbers should be on the right.
2/-          Format structure
The title page, abstract, main body and the reference page are the four main elements that constitute any term paper or even a research paper in the APA style. The title page should contain a running head which is a short title or rather a summary of your thesis statement. This short title should appear on all consequent pages of your term paper. This is followed by the actual title written on the first line followed by your name on the next line. The third line should mention the name of your institution followed by the date of submission on the next line. Ensure all four lines are centered. In-text citation is unique to an APA format term paper. Call us for more info on this.
Outlines
An outline is basically the blueprint of your ideas. It helps you in the following ways:-
1/-          Defines the core idea of your paper and gives you a glimpse of your final work
2/-          Reveals your weaknesses
3/-          Organizes your points and facts into a systematic and orderly flow of thought
4/-          Keeps a check on any deviances from the topic and subject
How we can help you
Our writing company believes in helping students develop their writing skills as well as achieving their grades. Therefore our professional writers can provide you with guidelines for writing APA format term papers or even topics – a term paper topic or research paper topic. We also have research paper for sale for those who are bogged down with other assignments to complete. Need a research paper topic? Let us know your subject and we will be able to formulate a good thesis statement along with an interesting topic. Be assured that you have come to the right website for academic paper writing assistance.