What is the importance of writing term paper abstracts?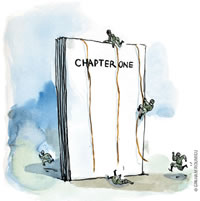 Depending on your subject, the term paper abstract should mention the purpose, background and conclusions that you have arrived at from your research.  A research paper writer should understand that though an abstract may contain key words from the larger work, it is not an excerpted passage but rather an original document. By quickly looking at the keywords, the reader would be able to decide if the entire piece of work would be interesting and worth reading.
What are the different types of abstracts?
There are basically two types of abstracts that are commonly used, each having their own components and style. Depending on the aim, term paper abstracts can be divided into:-
1/-       Descriptive abstract
This type of abstract gives a description of the purpose, methods used and sometimes the possibilities for further research development. It can be considered as the outline of the work that is going to be written about in your term paper. A descriptive abstract is usually short and incorporates keywords from the actual text.
2/-       Informative abstract
Most abstracts are informative in nature. From the abstract, the reader can conclude what the main argument and discussion of the paper is going to be about. It will also include a brief explanation of the results, evidences used in the research and the conclusions that have been derived.
Learn to write effective abstracts
Writing a term paper abstract will depend entirely on the subject that you have taken. Abstracts for scientific research papers will certainly differ from that of a literature research paper. However there are certain components that are mandatory to all abstract writing; such as:-
1/-       Your reasons for deciding on the particular topic and research paper
2/-       The problem that you are attempting to discuss and solve through your research work
3/-       The methods and evidences that you have used to conduct your research
4/-       The results that you have obtained from your research work
5/-       The implications of your research and how the data you have gathered affects the research topic
It is advisable to start drafting term paper abstracts only after you have completed writing your entire assignment. This is because the abstract is basically a summary of your entire work with an emphasis on keywords which helps focus on the content of your paper. Our writers are aware of how an effective abstraction should be written. We have a research paper for sale, on every imaginable topic. You can rest assured that it would include the abstract as well as a research paper proposal which might sometimes be required by teachers. It should be well structured with an introduction, methodology, result and discussion while the abstract will consist of a summary of the introduction, methods used, result and the discussion. Our writers are professionals and are proficient in writing any kind of research paper as per your requirement.