Learn about well structured term paper formats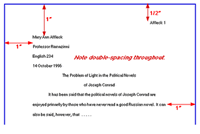 All academic papers must be presented in the specific format that is generally followed in colleges and universities. Your instructor will guide you briefly when handing out the assignments. You also need to know about writing styles, which are the APA and MLA. An APA style format is used when presenting papers in psychology and other social sciences while the MLA style format is used for subjects in humanities and liberal arts. Therefore it is important that you know and understand both the term paper format and the common styles used.
Difference between styles and formats
There are quite a few people who get confused by these two terms. Though they sound like the same thing, there are pointed differences that you should know about. A format refers to the structure in which a particular academic paper is written in; whereas the style refers to the way in which citations are brought in. Based on specific styles, which could be MLA, APA, Harvard etc, the appearance could change.
When you talk about term paper formats, you should know that they consist of the introduction, literature review, methodology, discussion, results, evaluation and conclusion. Styles are the way in which you introduce various sources or citations into the term paper. Different styles call for a change in the presentation of the front or title page and the layout of the list of references.
Learn to write an effective term paper
Writing term papers are important as it affects your final grades. Knowing the proper term paper format is not sufficient; your paper should also be well written and presented in an organized manner. Term papers are graded according to the quality of the writing and presentation. Therefore ensure the following:-
1/-       Your paper should consist of an introduction, body and a conclusion.
2/-       Facts and supporting evidences for your topic must be separated into paragraphs. Ensure that your entire paper is well constructed; sentences and paragraphs should have a smooth and continuous flow.
3/-       Your paper has to be well researched. All your points should be supported with strong and logical evidences.
4/-       Citations and references should be written according to the instructed style and its relevant formatting methods.
Why do most students come to us for help?
When you approach us for any research paper for sale, you not only get the paper of your choice but also other services. We are a service providing company; not just a writing company. Sometimes you require help not to write your entire paper, but just ideas for topics. Avail our research paper topics on different subjects at our website. Choose one that is suitable for your assignment. We also provide proofreading and other services at cost effective rates for students.
We hope we have cleared the air a bit about formats, styles, citations and so on. If you are still a bit diffident about the right kind of term paper formats that are to be followed, please take a look at examples of our custom research papers. You are sure to be impressed.