What is the purpose of term paper proposals?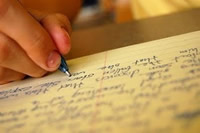 A term paper proposal is basically a research design which has to be submitted to the teacher for approval before beginning work on your research paper. It is the first and most important step taken by the student towards writing any research paper. Therefore a good proposal should consist of three basic components:
1/-          An appealing working title
As the title is the first thing to be noticed, it needs to be catchy and attention grabbing so as to interest the reader into reading your proposal. Ensure that your title conveys to the reader the idea you wish to present in your paper. Titles can sometimes be changed as you progress through your assignment.
2/-          A thesis statement
The thesis statement basically answers the question or the issue that you would be presenting in your term paper. It helps you and the reader focus on the main argument of your paper. Therefore your thesis statement should be strong, specific and should justify the discussion as it is an indicator to the reader the stand you have taken in your paper.
3/-          A complete resource review
It is very important to mention all the resources that you have used in the term paper proposals. You must give credit to all the sources that you intend to use as reference in your term paper. The main purpose of the bibliography is to assist the reader in cross referencing the sources you have used in your paper. Sometimes addition commentaries are provided so as to enable future readers and researchers gather essential information and a foundation for further research work. Therefore your reference section should include the author's name, the title, publisher's name, date and place of publication.
Learn to write effective proposals
Writing a term paper proposal is not easy. It is a balancing act between your actual writing and the basic leg work you have done figuring out what you intend to write. Your proposal is basically to seek approval from the review board is continue with your research work and present the paper. Therefore you will have to convince the board of several things:-
1/-          You have understood the assignment given to you. The topic you have decided must correlate to your thesis statement and other facts you have presented in your proposal.
2/-          You need show your competence at research. The bibliography in your proposal should be comprehensive thus indicating that you are capable of conducting research work to support your arguments with facts and evidences.
3/-          Your writing capacity and technical skills are satisfactory to enable you to complete your proposed project successfully and efficiently.
Where do you go for quality help?
Term paper proposals are important as unless you obtain permission to continue your research, you will not be able to write you term paper thus affecting your grades. We can help you by providing custom research papers or any other research paper for sale. For students who have starting problems i.e. they are unsure as to what to write, we can also provide you with research paper topics. You need not worry at the prices as we cater to students and understand that you would be working on a shoestring budget.