Term paper titles help both writer and reader stay focused on the assignment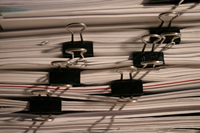 Do not get confused between a term paper title and the topic for the term paper. So what is the difference?
1/-          A topic is either provided by your professor or decided by you based on the assignment. It represents the wider concept that you would be investigating. It has to be carefully thought out; and it should fit the assignment that has been given to you. It has to be attractive and interesting enough to catch the reader's attention and interest.
2/-          The title on the other hand is the name given to your project; and the specific area that you would be focusing your research on. A quick glimpse of your title should be able to indicate to your professor the path you intend to take with your research. Therefore it should be a brief statement that focuses on the specific argument you wish present with facts and evidences. Its sole purpose is to attract your reader's attention and get him/her involved in your area of research.
When a custom research paper is created for you, our writers would focus on providing your paper with an impressive title. We understand that this is the first step in creating a good impression towards your paper.
What is the importance of a good title?
Term paper titles are as important as the entire research paper. The right title attracts the reader's attention but it should also be accurate as it projects the content of your term paper. An interesting title would indicate that your research paper is interesting even if it turns out to be the opposite.
What should a good title convey?
A title in a term paper is basically the summary of your entire paper. Though it is written at the top of the page, it is written only after you have completed writing your entire research paper. This enables you to change the title if your focus has shifted from your initial writing plan. It should contain not only the gist of your research paper but also keywords from the body of your paper. Therefore a good term paper title should establish the following:
1/-          A unique and original message that conveys the interesting aspects of your research paper in a single sentence.
2/-          Create an element of curiosity towards your paper. It should want to make the reader discovery what your paper is all about.
3/-          Create the impression that by reading your work, the reader would be exploring a new world of ideas.
Learn the proper method of presenting your title
Even the best written term paper would be considered incomplete without an appropriate title. Depending on the citation style, term paper titles are either written on separate pages or on the same page along with other details such as your name, institution name etc. When you buy research papers from us, we will ensure that a working title is provided for your research paper proposal. If it is rejected by your professor, we will change it to meet your tutor's criterion. We pride ourselves in being able to provide quality term papers and our writers will definitely see you through right up to the date of submitting your term paper.