Understand the formatting methods and writing styles used to write term papers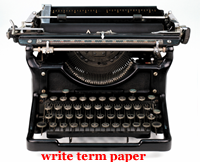 There are several reasons why you are asked to write term paper:-
1/-          Most term papers are based on topics covered in the classroom. Through your paper, the teacher will know if you have understood these topics and the extent to which you are thorough with it.
2/-          Before starting your writing process, you need to conduct a thorough research on the topic before you begin writing your paper. This will definitely increase and add on to your knowledge of the topic.
4/-          To demonstrate your knowledge of the various styles of writing term papers – this is another reason for writing term papers. You will need to know not only the rules for the various writing styles but also the rules for the in-text citation and reference/works cited page.
Learn how to write effective term papers
Writing term papers is a must for all students, your grades and finally your movement up the academic ladder depends on how well you have done in your written assignments. This is one reason why students prefer to approach us for custom written term papers or a custom research paper. If you lack writing skills then writing a term paper might be a daunting task but on the other hand with our guidance and writing tips you will definitely be able to write term papers well. What are the steps taken to achieve this?
1/-          Choose your topic
If a topic has not been given then the best place to start would be your text book or course material. Pick a topic that interests you but ensure that you have sufficient resources to research this topic. Formulating a good thesis statement will help you stay focused on your topic and will also enable the reader to understand what your paper is going to about.
2/-          Prepare an outline
Outlining helps you organize your thoughts and the facts that you have researched to support your theories into a coherent order. It also helps eliminate unnecessary points which might be irrelevant to your topic. By writing an outline, you can ensure that your paper stays focused on the topic.
3/-          Introduction, body and conclusion
These are the three main parts that you need to focus on when you write term paper or research paper. The first paragraph introduces the topic and your theories. Your arguments, facts and supporting evidences are presented in the body paragraphs. The last paragraph concludes with your opinion based on your research and arguments.
Get help from us – the professionals
We are a reputed writing company that has helped many students achieve their grades. We can provide you with guidance and writing tips or you could send us your completed paper to be proofread and edited. If you are unable to write term papers or research papers due to your work load, then buy research papers or your term papers from us. We will prepare an outline of the paper for you and a research paper proposal for your teacher's approval. We guarantee any paper written by us is 100% original and error free.